This morning started with a gasp, "Sissy, are you going to come and watch me open my presents?" After rolling over and trying to grab a few more winks of sleep, I reluctantly rolled over and shuffled out of bed. Playing Santa means late nights and early mornings. Hours of wrapping gifts and minutes spent opening them.
"
Glue Sticks...?
Santa brought me
glue sticks
?"
Imagine a five-year-old's surprise when his first gift opened contains three jumbo sized disappearing purple glue sticks. Santa's a big spender this year.
But don't worry - he opened his Nintendo DS next.
[Note: We extend our appologies to all who are offended by the following photos of Aiden wearing blue-camo underwear as pajamas - he hates pants, I swear.]
Nothing beats the early morning "oohs" and "ahhs" and "OMG-how-did-santa-know-i-wanted-this's" of Christmas. The torn and thrown and crumpled paper. The bows that hardly stick long enough to flip the gifts over. The cold toes of a little boy who refused to put pants or socks on this morning because it wouldv'e delayed the opening of gifts.
You can see the excitement on Aiden's face as he opened the missle-launching helicopter he had been dreaming of - in camoflauge colors, too. But he was even more excited when his dad opened a matching helicopter in red.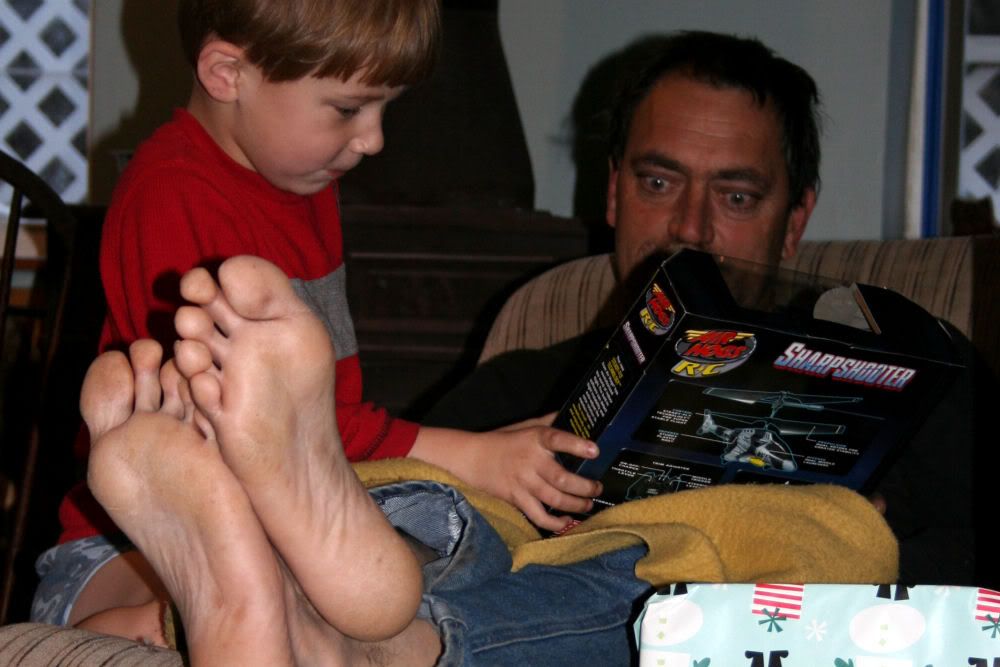 "LOOK DAD. Look what I got!"

"Dad! Santa brought you one, too?! He must have known we wanted to battle!"


We're not quite sure where Santa gets stockings this big. We've yet to meet anyone with feet this size.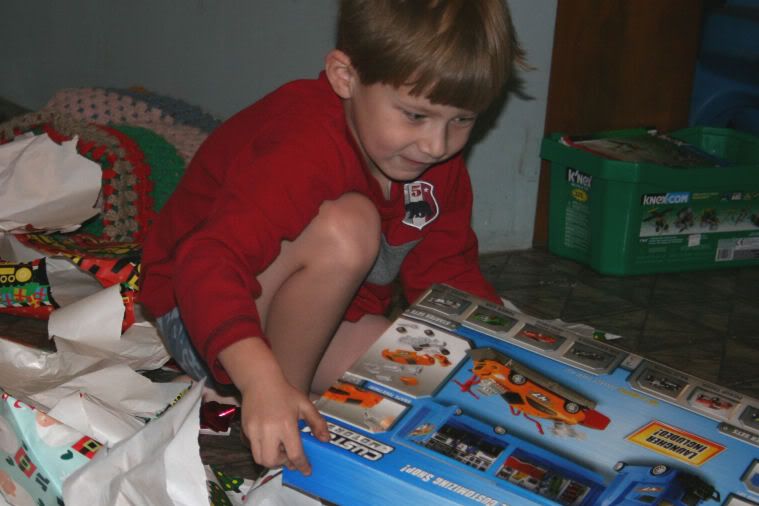 "What do you think this one is?"
"You'll have to open it"
"I hope this isn't a boosheekie"
"A what?"
"You know, a floating ball.."
"You mean a Fushigi..?"
"I asked Santa for one but then I found out they don't work - they really don't float at all."
Aiden is the infomercial-king. Last year it was Bendaroos which make magical masks. This year? Fushigi. Once a day, at least, I catch him rattling off a commercial, singing a jingle - getting it down word for word.
But you know, "if it ends in .99 - like three easy payments of 9.99 - well, it's a joke"
Five year old wisdom.
Later this afternoon I received a text message:
"Aiden said he can feel the reindeer saliva on the leftover carrots"
He spent all day collecting proof that Santa must be real. Who else could have eaten the cookies? And the carrots? Well, Santa wrote back - reindeer love carrots. But how did he get in with Sean sleeping on the couch? Don't we lock the doors? Well, we have no chimney.
"But sissy - this looks like your handwriting?"
After the present opening and evidence collecting, I donned my Christmas best for a Shook family Christmas. You can tell Ryan loves Christmas - look at that smile.
Who knew that centerpieces and wrapping paper could double as gifts for Mittens? That certainly wasn't the intent.
I hope that you enjoyed a delicious Christmas feast today to help you prepare to hibernate through the winter storm headed for the East Coast tomorrow. We certainly did.
"Do you think we could take some of that cake home, too?"
I hope that your Christmas was full of simple joys. The laughs of little ones. Hugs from Grandmas (wether they're your's or not). Cookies baked slightly too long. Bickering with your family. The lack of football on TV. The snow flurries that followed your drive to wherever home may be. The kittens who pull down every ornament on the tree which is wider than your big-screen TV. Family. Friends. Joy. & Love.
For unto you is born this day in the city of David a Savior, who is Christ the Lord.